Utah CHA Family News
If you have any news you would like to share, send it to kwebb50@msn.com and we will post it!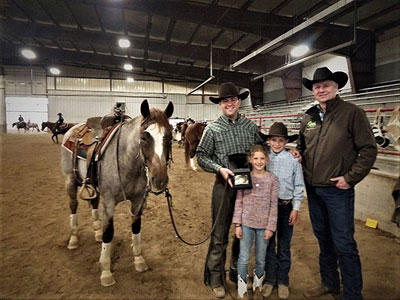 NWAB Champion Show #1 Salina
Andy Dent & Metallic Moon Cat
along with two of his favorite fan club receiving buckle from UCHA Director Blake Christensen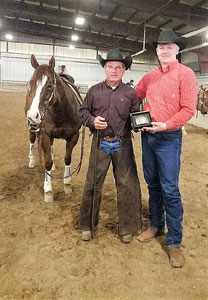 NWAB Champion Show #2 Salina
Dennis Cusick & Peppys Smoothie
from UCHA Director Blake Christensen
posted December 20, 2014
It is with great sadness and regret to announce the passing of Terry Reed Hymas. A viewing will be held Monday December 22, 2014 at Schwab-Matthews Mortuary from 6:00 to 8:00 pm. Funeral services will be held Tuesday December 23, 2014 at the Liberty Ward Chapel viewing starting at 9:00 am and services starting at 11:00 am. Interment will be at the Liberty cemetery immediately after the funeral services. Click here to view obituary.
posted September 11, 2013
REMEMBERING DENNIS MOEDL
We lost a great supporter and true friend yesterday with the passing of long time Meadow Vue Ranch Cutting Producer Dennis Moedl. Dennis's rock solid western heritage and beliefs, as well as strong family values, were proudly reflected in each and every cutting and relationship throughout the years. The true "ranch" cutting always proved to be a success, no matter what mother nature would throw its way! Dennis produced the Meadow Vue Ranch Cutting for going on 30 years and it has been enjoyed by many associations and families. We as cutters are lucky that that tradition and heritage will be carried on for many years to come by Dennis's family and friends.

Condolences can be mailed to Meadow Vue Ranch, Box 93, Macks Inn, ID 83433.
posted April 11, 2013
Thomas G. Ellingford, of Bridgeland, died April 6, 2013, after suffering a heart attack at age 59. Click here to read his obituary and leave condolences.
posted February 19, 2013
One of our long time cutting friends, Gene Hintze and his wife, Mary, are living in Illinois. Gene loves to hear from his friends here in Utah or Idaho. Give him a call at 815-757-3520.
posted February 13, 2013
Our condolences to Pat Walker on the loss of his wife, Diane. She was in a fatal car accident last Thursday. We will miss you at the cuttings.
posted January 22, 2013
Gabby Sanborn's life was cut short suddenly in January. She was one of our youth cutters from Idaho. We will all mourn her loss. Condolences to her family and especially her grandmother, Gina Macdonald. During the March show in Nampa, we will remember her with the Gabby Sanborn Memorial cutting. Awards will be presented in her name. More information will be forth coming.
Welcome home Zane Mendenhall. He recently returned from his mission in El Salvador. He will be back at BYU next semester.
posted January 18, 2013

Condolences to Tim Denton on the loss of his sister recently. Our thoughts are with you.
Congratulations to Danielle Pace who just got her mission call to Raleigh North Carolina. She will be leaving February 27. We'll miss you at our shows but are very excited about this new adventure!